Add to favourites
Lotto 15 - Alexander Dennis double deck service bus for spares Registration Number: P5 ACL (Plate not sold with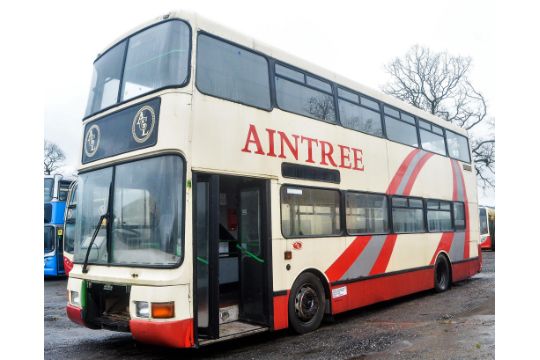 altro

Visualizza tutto

totale

Riduci
Descrizione:
Alexander Dennis double deck service bus for spares
Registration Number: P5 ACL (Plate not sold with vehicle as has been retained)
Date of Registration: Unknown
MOT Expires: Expired
** No documents **
** Vehicle has been recovered and is in spares condition **
Informazioni importanti :
Upon instructions of a Major UK Finance Company
Bidding ends Thursday 24th January 2019 from 2 pm. Lots will end at 1 minute intervals
Special Conditions of Sale
**IMPORTANT NOTICE**
All final bids will be null & void until we recieve approval from our client.
Viewing
The lots will be available for viewing at Gateway Auctions, New Garage, Mitton Road, Whalley, Lancashire BB7 4JU from Monday 21st to Wednesday 23rd January 2019 between 9am & 5pm.
Deposit
We reserve the right to charge a deposit of up to £250 to the credit card the registered bidder has used to register with us. Bidders will be notified by email before this charge is made.
Buyers Premium
A buyer`s premium of 10% plus VAT will be charged on all lots and all buyers premium is plus VAT .
Time Extensions
Lots end times will extend to 10 minutes if a bid is made with less than 10 minutes remaining.
Payment
Payment must be made IN FULL or finance arranged by 5.00pm Friday 25th January 2019. We accept BANKERS DRAFT, CHAPS PAYMENT or CLEARED CHEQUES. We are unable to take single cash payments amounting to more than £9000.
Clearance
Monday 28th January to Friday 1st February 2019 , at Gateway Auctions, New Garage, Mitton Road, Whalley, Lancashire BB7 4JU between 9am & 5pm.
VAT and Equipment for Export
All lots are subject to VAT at 20%. Any foreign buyers wishing to export goods must inform our office at the time of registration
SOLD AS SEEN
* La descrizione del lotto sovrastante da parte del banditore nella lingua dell'asta è la descrizione di riferimento. Qualsiasi traduzione effettuata con Google translate è solo un aiuto: la sua accuratezza non è garantita ed è usata a proprio rischio
La tua richiesta di informazioni è stata inviata.
Chiudi