Add to favourites
Lote 10 - Alexander Dennis Trident Plaxton President 75 seat double deck service bus Registration Number: V533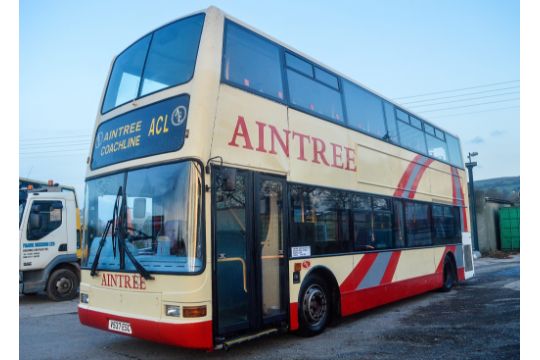 más

Ver todos

total

Minimizar
Descripción:
Alexander Dennis Trident Plaxton President 75 seat double deck service bus
Registration Number: V537 ESC
Date of Registration: 25/11/1999
MOT Expires: Expired 13/11/2018
Recorded k/m's: Not displayed (Clock Blank)
c/w V5C registration document, certificate of initial fitness & carrying capacity authorisation
Información importante:
Upon instructions of a Major UK Finance Company
Bidding ends Thursday 24th January 2019 from 2 pm. Lots will end at 1 minute intervals
Special Conditions of Sale
**IMPORTANT NOTICE**
All final bids will be null & void until we recieve approval from our client.
Viewing
The lots will be available for viewing at Gateway Auctions, New Garage, Mitton Road, Whalley, Lancashire BB7 4JU from Monday 21st to Wednesday 23rd January 2019 between 9am & 5pm.
Deposit
We reserve the right to charge a deposit of up to £250 to the credit card the registered bidder has used to register with us. Bidders will be notified by email before this charge is made.
Buyers Premium
A buyer`s premium of 10% plus VAT will be charged on all lots and all buyers premium is plus VAT .
Time Extensions
Lots end times will extend to 10 minutes if a bid is made with less than 10 minutes remaining.
Payment
Payment must be made IN FULL or finance arranged by 5.00pm Friday 25th January 2019. We accept BANKERS DRAFT, CHAPS PAYMENT or CLEARED CHEQUES. We are unable to take single cash payments amounting to more than £9000.
Clearance
Monday 28th January to Friday 1st February 2019 , at Gateway Auctions, New Garage, Mitton Road, Whalley, Lancashire BB7 4JU between 9am & 5pm.
VAT and Equipment for Export
All lots are subject to VAT at 20%. Any foreign buyers wishing to export goods must inform our office at the time of registration
SOLD AS SEEN
Condiciones del subastador
Dirección de la sala:
New Garage

,

Mitton Road

,

Whalley

,

,

Clitheroe

,

Lancashire

,

BB7 9JU

,

United Kingdom
* La descripción hecha por el subastador del lote arriba indicado es la descripción más precisa del mismo. Cualquier traducción realizada con Google Translation es meramente una indicación - su exactitud no puede ser garantizada y es usada bajo su propia responsabilidad
Su consulta se ha enviado.
Cerrar